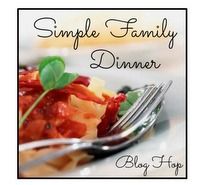 I am very happy to be able to take part in a blog hop called Simple Family Dinner. I love cooking and I am beyond excited to participate in such a fun cooking series! Also, I am sure, busy parents will appreciate the lovely, healthy and simple meals shared in this series! Just click on the logo above and check out other blogs participating, or go to the bottom of this post and click on the links provided!
The pilaf is what I would call a double family meal. My father got his hands on a traditional Kazakh cookbook, and we were all delighted by this wonderful, simple dish. He used to make it a lot! Now I am making it for my own family. It is easy to make, looks and smells great, and is a delight to eat for adults and children. My husband and the children love it, and with the big choice of veggies that come with it, there is a big chance that they will eat some of them! This is not necessarily the original version, I have adapted it somewhat.
This should be enough for 4-6 people.
YOU WILL NEED:
3 tablespoons olive oil, for frying
250g meat- the original recipe calls for lamb. But since my husband does not eat lamb, I substituted this with beef. Cut it into cubes or stripes. You can also ue chicken or fish if you like.
1 big onion or 2 small ones, finely chopped
5 small carrots or 3 very big ones. The carrots should be cut into thin sticks. I use my food processor to do this job but you can also grate them.
2 teaspoons turmeric or curry
1 cup of basmati rice (you can use other types of rice but you will have to adapt the quantities of water accordingly)
A choice of fresh and canned vegetables, such as: cucumber, fennel, bell pepper, chicory, chives, artichoke hearts, radish and kohlrabi. Pickles of all kinds (mushrooms, gherkins, onions, etc.) are also common. I like to serve the pilaf with avocado and olives.
Heat the oil in a heavy pan or wok. Add the meat, and fry it until it is tender. Add the onions and fry until light brown. Add a cup of water, turmeric and salt. Turn down the heat and add the carrots. Cover and let it simmer for about 40 minutes. Add the rice and turn until it is covered in sauce. Add 2 cups of water. Let it simmer until the rice absorbs all the liquid and turns a delicious golden colour. This should take around 20 minutes, just enough time to prepare the vegetables. The bigger ones should be cut into sticks so they can easily be eaten by hand. The pickles can be served in bowls or arranged on a plate.
The pilaf should be pretty dry, with all the rice grains separated. The fresh vegetables and the acid pickles are just perfect with this dish. Enjoy!
Enchanted Homeschooling Mom
|
Inspired by Family
|
Sun Scholars
|
This Reading Mama
|
Life by Ashley Pichea
|
In Culture Parent
|
Raising Life Long Learners
|
Glittering Muffins
|
Octavia and Vicky
|
Kid World Citizen
|
Kitchen Counter Chronicles
|
Nomad Parents
|
Childhood 101
|
Triple T Mum
|
Adventures in Mommydom
|
The Freckled Homeschooler
|
Teach Beside Me
|
The Chirping Moms
|
Discovering the World Through My Son's Eyes
|
So You Call Yourself a Homeschooler
|
Pickle Bums
|
The European Mama
|
The Golden Gleam
|
Forever, For Always, No Matter What
|
Motherhood on a Dime
|
Harrington Harmonies
|
Rainy Day Mum
|
Jenni Fischer
|
Cakes and Sribbles
|
Toddling Into Madness
|
Mermaids' Makings
|
Mud Hut Mama
|
Here Come the Girls
|
All Done Monkey
|
Small Potatoes
|
Little Artists