It is my great pleasure to take part in another Blogging Carnival again. In a very timely fashion, this month's topic is Spring Traditions. It is hosted by Becky of Kid World Citizen. In this post, I would like to present some typically Polish or Slavic traditions associated with spring in general, and Easter in particular
Photo:www.fantastyka.pl
This is a tradition known in Poland and some other Slavic countries. The Marzanna (the "rz" is pronounced like
the "j" in the French word "Jacques"), or Morena, as she is known in other Slavic countries, is a female goddess of winter, darkness, sickness and death. On the first day of spring (although accounts vary to the time in which this should happen), a straw puppet is made, dressed in rags and taken to be drowned in the nearby river. Along the way, however, she is dipped into every puddle and pond, and sometimes burned. The size can vary, from as small as a puppet to life-size. This tradition was used to chase away the winter and make way for the spring.
On the first day of Spring, many students and pupils decide to play truant, which is half-legal, or "overlooked" by the school authorities on that day. Sometimes the whole class doesn't show up at school on that day. Some schools decided to make this more official by legally organising out-of-school activities, or parties. Truant's Day could be combined with drowning of the Marzanna during school hours.
On this day, everybody brings palms to Church to be blessed. These palemki are often made of willow branches, but the most beautiful are made with dried flowers, and beautifully arranged. They refer to Palm Sunday, in which Jesus arrived in Jerusalem and was greeted by crowds holding palm leaves. If you're feeling crafty, you can make your own palemki out of paper!
Photo:www.womcat.edu.pl
On Saturday, people often bring little baskets called Święconki to church to be blessed. In these baskets you will find: colourful eggs, piece of cured meat, a palemka, salt and bread, and often a figure of lamb made of sugar. These are then put on an altar in front of the Church and the Church blesses them. Usually people take great care in the arrangement of these baskets.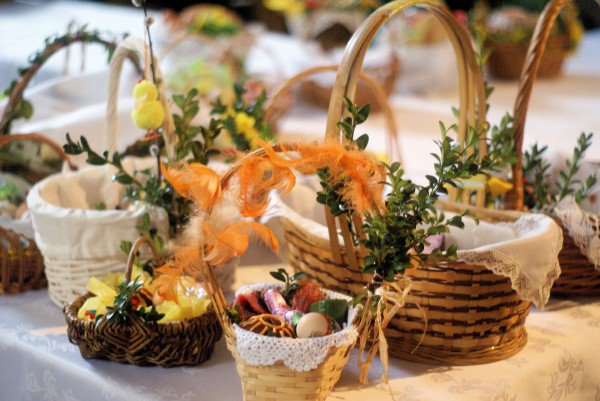 Photo:www.chojnice24.pl
Śmigus Dyngus, or Wet Monday, is celebrated on Easter Monday. It basically involves pouring buckets of water on everybody you meet, regardless of whether you know them or not. This stems from a pagan tradition of celebrating life, nature and fertility. The water was also said to cleanse. Additionally, willow branches were used to hit people around the legs, but it is not done anymore. With time, another tradition developed around the villages, with boys pouring buckets of water on the girls they liked, and if boys didn't want to pour water on a girl, she was considered unattractive. Now, girls attack boys just as fiercely, and often, water pistols are used. In our house, we would sometimes splash some water on family members, but no buckets were allowed.
I hope you enjoyed reading about these traditions. We didn't really celebrate Easter this year as we're all cold and miserable, but at least I'm happy to be able to share some Easter traditions from my country.